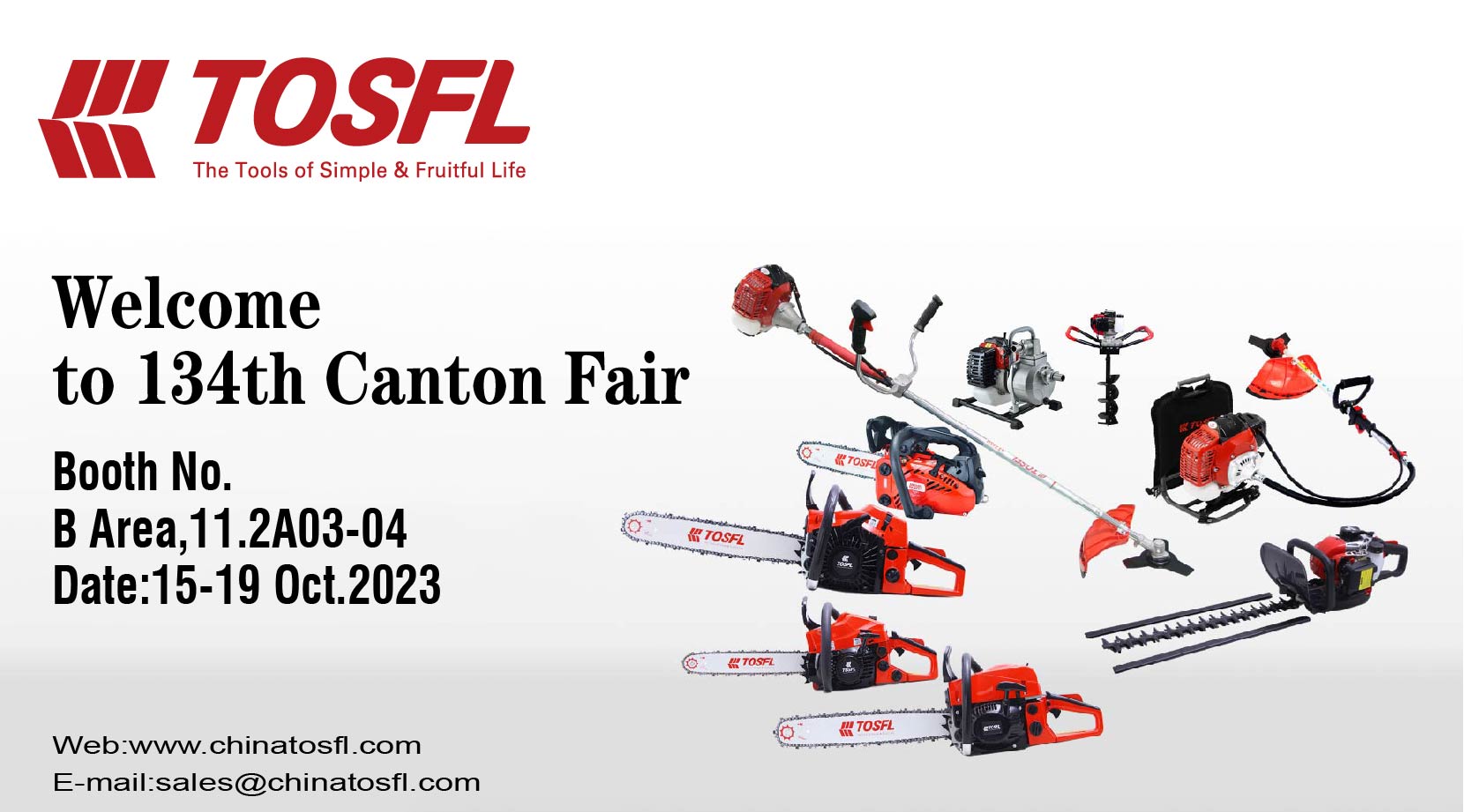 Dear Sir/Madam,
We are delighted to extend our invitation to you as a foreign business to participate in the 134th Canton Fair. We represent YONGKANG TOSFL TECHNOLOGY CO.,LTD., a manufacturer specializing in high-quality garden tools and various other products. This is a remarkable business opportunity for you to explore our diverse product range, including Chainsaws, Brush cutter, Earth augers, Water pumps,Tillers, Outboard motors, and more, as well as to establish mutually beneficial business relationships with us.
Here are some highlights of our company's key products and advantages:
1. Chainsaws:Our chainsaws offer outstanding performance and reliability, suitable for forestry and woodworking projects.
2. Brush Cutter: Our Brush Cutter are ideal for gardening, agriculture, and lawn maintenance, with efficient cutting capabilities.
3. Earth Augers: Our earth auger equipment is designed for soil drilling, providing convenient and efficient solutions.
4. Water Pumps: We manufacture various types of water pumps for irrigation, drainage, and other water treatment applications.
5. Tillers: Our Tiller contribute to soil improvement and agricultural production.
6. Outboard Motors: Our outboard motors are suitable for powering boats and water transportation.
We take pride in our commitment to high quality, innovation, and reliability, which has earned us widespread recognition in international markets.
The Canton Fair offers an exceptional platform for you to:
· Engage in face-to-face discussions with us to learn about our products and their performance.
· Explore business opportunities and establish long-term cooperation with us.
· Gain insights into the latest trends and developments in various product sectors.
We look forward to meeting you at the Canton Fair and showcasing our diverse product range. Please reserve your booth promptly to ensure that you can make the most of this important business event. If you require further information or have any questions, please feel free to contact us.
Thank you for your interest and support. We anticipate sharing business opportunities with you!
Best regards,
YONGKANG TOSFL TECHNOLOGY CO.,LTD.